Welcome to Snowfield Farm!
Snowfield Farm, Inc., owned by trainer Laurie Priboth Jueneman, specializes in Hunters, Jumpers, Ponies, and Equitation. Whether you board and train at one of our two facilities, trailer in, or choose to take advantage of our wonderful school horses, lessons are personalized to each rider's individual goals. A focus on solid horsemanship skills results in better communication and understanding, which ultimately leads to a safer environment with enhanced learning and success for both horse and rider. Group and private lessons are available depending on the needs and schedules of the student. All levels of horses and riders are accepted in Snowfield's training program.
Contact
Laurie Jueneman
snowfield@q.com
(970) 390-0993
Location
Parker
4228 N. Flintwood Road
Parker, CO 80134
In the News at Snowfield Farm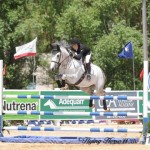 Lusa will be working with clinician Julie Winkel August 4-8, 2014 at the Colorado Horse Park as part of the Emerging Athletes Program. During these extensive four-day training sessions, Lusa will be instructed on flatwork, gymnastics, jumping and course work, as well as an intensive horsemanship curriculum that incorporates proper medical care and grooming, horsemanship skills, and barn management. Lusa will also complete a written test as part of their evaluation for the National Training Session. Congratulations Lusa! We are so proud of you!