Welcome to Snowfield Farm!
Snowfield Farm, Inc., owned by trainer Laurie Priboth Jueneman, specializes in Hunters, Jumpers, Ponies, and Equitation. Whether you board and train at one of our two facilities, trailer in, or choose to take advantage of our wonderful school horses, lessons are personalized to each rider's individual goals. A focus on solid horsemanship skills results in better communication and understanding, which ultimately leads to a safer environment with enhanced learning and success for both horse and rider. Group and private lessons are available depending on the needs and schedules of the student. All levels of horses and riders are accepted in Snowfield's training program.
Contact
Laurie Jueneman
snowfield@q.com
(970) 390-0993
Location
Parker
4228 N. Flintwood Road
Parker, CO 80134
In the News at Snowfield Farm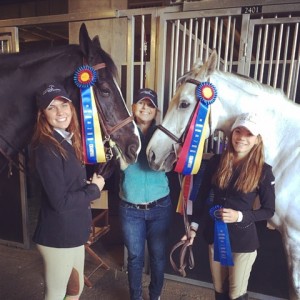 Lusa and Reilly showed us what winning big in Vegas really looks like! Competing at the Las Vegas National in early November, Lusa was champion of the low childrens jumpers out of a strong field of 35 competitors. Reilly was reserve champion of the division, and picked up the high childrens jumper championship out of 30 riders. Lusa and Powder Day also placed second in the 1.0m jumper stake out of 52 riders, while Reilly and Valois were right behind her in 4th place. Reilly finished 7th in the NAL national final, providing a great end to the week! Congratulations on a fantastic season, girls!