Welcome to Snowfield Farm!
Snowfield Farm, Inc., owned by trainer Laurie Priboth Jueneman, specializes in Hunters, Jumpers, Ponies, and Equitation. Whether you board and train at one of our two facilities, trailer in, or choose to take advantage of our wonderful school horses, lessons are personalized to each rider's individual goals. A focus on solid horsemanship skills results in better communication and understanding, which ultimately leads to a safer environment with enhanced learning and success for both horse and rider. Group and private lessons are available depending on the needs and schedules of the student. All levels of horses and riders are accepted in Snowfield's training program.
Contact
Laurie Jueneman
snowfield@q.com
(970) 390-0993
Locations
Parker
4228 N. Flintwood Road
Parker, CO 80134
Cordillera
2205 Cordillera Way
Edwards, CO 81632
In the News at Snowfield Farm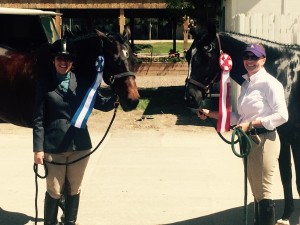 Summer in the Rockies–Week I was a HUGE success for Snowfield Farm! Coeur de Lion shined at his first horse show, winning the pre-adult classic with owner, Sylvia Kirk and finishing as Reserve Champion of the Baby Green Hunters with Laurie Jueneman. Bronwen Cheney and Sondertanz were right behind them, finishing second in the pre-adult classic and 3rd in a pre-adult over fences class!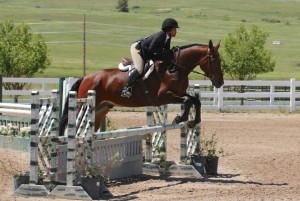 Junior equitation riders were shining stars, with Sarah Kullman finishing as champion in the Children's Equitation and winning the Sore No More Medal aboard Baseline. Sarah Bowen had great ribbons in the equitation and won the Dorothy Roberts Medal on her horse, Viking Ferro. Ashlyn Hawkinson also had great ribbons in the children's eq, finishing 4th over fences aboard Cassis IV. Marnina Seller was 2nd in the Washington hunter phase, 4th in the CHJA medal, and had a strong performance in the Maclay.
Curaçao was champion of the combined 3′ – 3'3 pre-green hunter division with Laurie Jueneman, and was 2nd, 2nd, 5th and 5th in the Adult Amateur division with his owner, Liesl Schultz. Samantha Kramig and Little Princz picked up third place ribbons in the 3'3 Amateur Owner and Performance Hunter divisions. Leanne Acuff and Gibson also had a great start to the summer show season, and were undeterred by the thunder and lightening that served as a backdrop for their first classes of the summer. Rounding out the strong work of our adults, Martha Krell and Gwen put in a solid performance after a long break from horse showing! Gwen finished third in a judged warm up with Laurie, and had strong rounds in the schooling hunter division.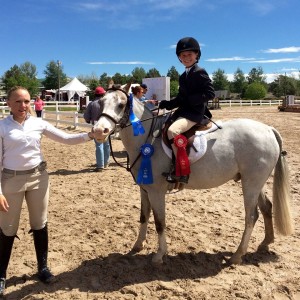 Finally, pony rider Lizzie Simpson was champion of the Pony Equitation, won the CHJA pony medal, and finished 4th in the Pony Hunter Classic.
CONGRATULATIONS TO ALL SNOWFIELD FARM RIDERS! We are so excited for the next few weeks of Summer in the Rockies!